THE INFORMATION ON THIS PAGE
IS NOT PRESENTED TO TAKE THE PLACE OF ADVICE
OR RECOMMENDATION OF A QUALIFIED PHYSICIAN
NOR IS IT TO TAKE THE PLACE OF YOUR GOOD COMMON SENSE.
CHIROPRACTIC AND THERAPEUTIC MASSAGE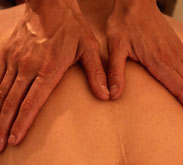 Back pain, neck pain and headaches are just a few of the painful and distressing conditions that affect most of us at one time or another. Whether your pain is the result of traumatic injury, overuse or stress, chiropractic and therapeutic massage combined can greatly speed up your return to a productive life.



INTERNATIONAL CHIROPRACTORS ASSOCIATION

FIND A CHRIOPRACTOR


BACK